Con A Sutra Adult Guide To Full Frontal Nerdity HC (MR) (C: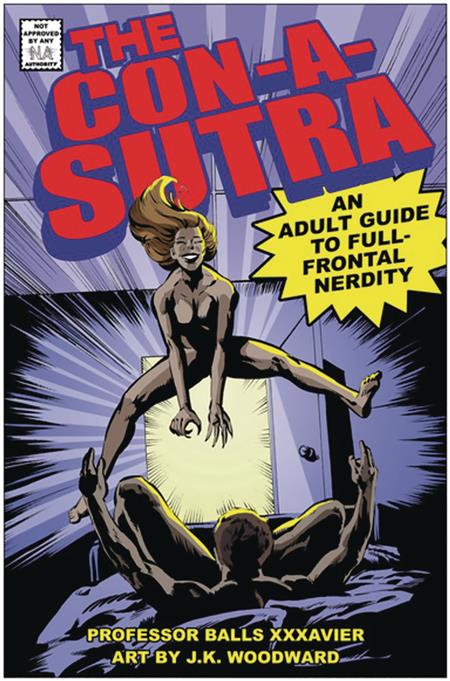 Relisted
Literally and figuratively illustrating the modern nerd's sexual experience (or inexperience) through a series of hiliarious sexual positions featuring classic comic book-inpsired art, referencing the most celebrated and iconic elements of nerd culture along the way. For everyone who's a geek in the streets, a freak in the (Star Wars) sheets-or wants to be-comes a guide for nerds, by nerds. Today's nerds are loud, proud . . . and thirsty. They've stepped away from their action figure collections and toward the infinitely diverse collection of like-minded folk who are as turned on by cosplay as they are by foreplay. But as knowledgeable as they are, nerds aren't always experts when it comes to the logistics of sex. Enter The Con-a-Sutra: A Guide to Full Frontal Nerdity. This book is much more than The Idiot's Guide to Mensa Sex and light years ahead of a collection of IKEA 'put tab Blaarf into slot Numdoggal' instruction sheets. Accompanied by classic comic book inspired art, noted fictional sexpert Professor Balls Xxxavier literally and figuratively illustrates the modern nerd's wildest fantasies through a series of hilarious (if occasionally unachievable) sexual positions. Written to be inclusive of LGBTQ nerds, The Con-a-Sutra recognizes that nerds come in all body types, gender identities, and sexual orientations. Whether you prefer 'The Splash Page,' 'Wookiee Nookiee,' or 'The Wayne Manner,' there is something here for everyone-even if only a hysterical and reference-packed break from your favorite smutty fanfic. From viral fan artists to passionate gamers, and from talented cosplayers to bookworms with overflowing comic collections, nerds are found in every demographic of modern society, making this the perfect gift for your boyfriend, girlfriend, husband, wife, brother, sister, office-mate, nerd-in-law, or any of the millions of people who proudly belong to a pop culture fandom. A comical compendium of con-friendly coitus, The Con-a-Sutra lets you boldly go where no nerd has gone before.
Publisher: SMART POP
Writer: Balls XXXavier
Artist: J. K. Woodward
Product Code: APR211922
Expected Ship Date: 6/30/2021
Regular Price: $19.95
DCBS Price: $13.97
You save 30%!