How War Begins HC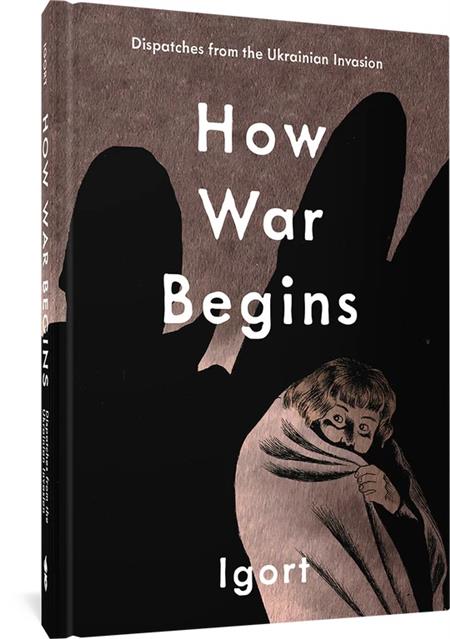 In 2022, Igort, an acclaimed Italian cartoonist of Russian descent, began taking down the testimonies of Ukrainians during the Russian invasion. He turned them into online comics journalism, collected here for the first time in English. 'The collapsing bodies look like marionettes. The clouds of dust captured by drones have a surreal beauty. The crumpling buildings look like houses of cards. Even so, it's upsetting, panic-inducing. How can you not think about the human lives, just like your own, buried under that rubble?' In this real-time work of graphic journalism (posted serially on Facebook), the cartoonist Igort uses the medium of comics to depict the telephone testimonies of Ukrainians as Russia invaded in 2022. In vignettes that grow ever more horrifying - infiltrating spies, bombed cities, recorded accounts of children whose parents were murdered in front of their eyes, and more - Igort also relays the events that led up to the invasion, such as the torture and killing of human rights activists. He tells stories of individual struggle and suffering with no resolutions because they are still happening: Of Tetiana, who fled in the middle of the night with her children and whose car broke down on the steppe. And Maksim, who lived in Belgium and went for a five-day family visit and who could not return home when his mother died of COVID due to martial law. In art styles that veer from cartoony simplicity to photorealistic, depending on what the moment demands, Igort paints portraits and scenes of ordinary people trying to survive among almost 10,000 civilian deaths. How War Begins is an important document of the past, the present, and the future. Igort (Igor Tuveri), b. 1958, is a prolific award-winning Italian cartoonist and the founder of Oblomov Press, a comics publisher. He is best known for his graphic novel 5 is the Perfect Number, which won the Book of the Year award at the Frankfurt Book Fair. He is also a film director and directed the movie adaptation in 2019. His previous works of graphic journalism include Russian Notebooks and Nomadic Pages.
Publisher: Fantagraphics Books
Writer: Igort
Product Code: NOV231460
Expected Ship Date: 3/27/2024
Regular Price: $29.99
DCBS Price: $19.49
You save 35%!
Add To Cart